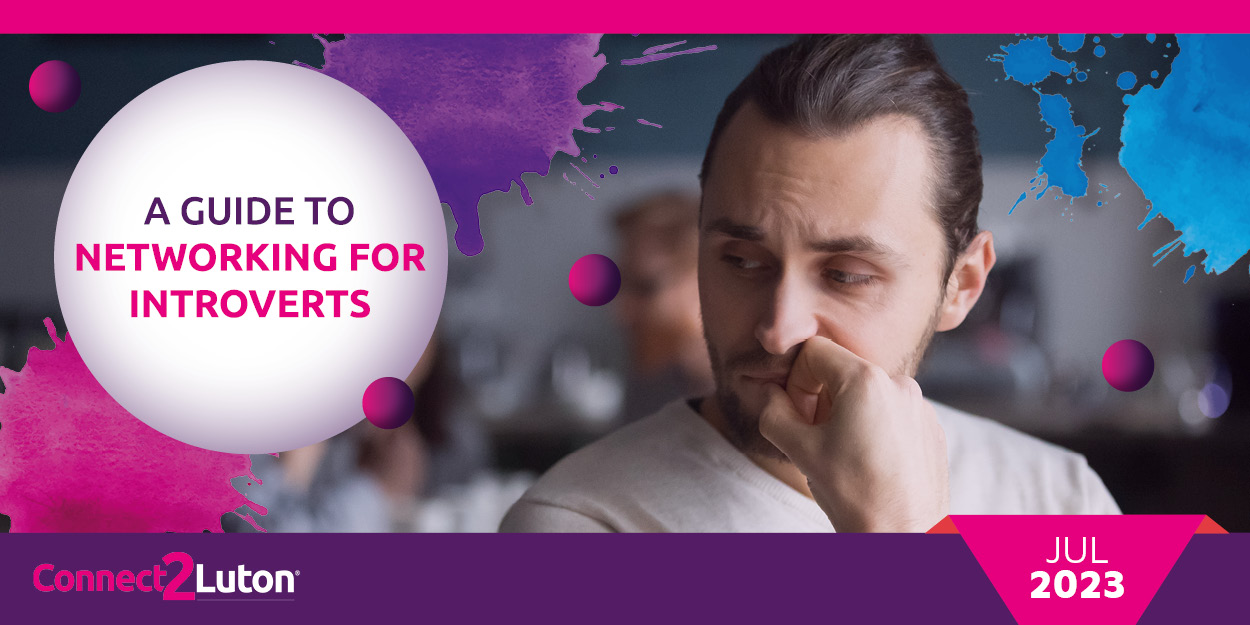 24 July 2023
Connect2Luton's Guide to Networking for Introverts
Networking is a critical component of building a successful career or business, but for introverted individuals, it can be a daunting task. The thought of walking into a room full of strangers, striking up conversations, and promoting oneself can seem overwhelming and uncomfortable. However, networking doesn't have to be a painful experience for introverts. With the right approach and mindset, networking can become an enjoyable and fruitful endeavour. In this blog, we will provide a guide to networking for introverted individuals, offering practical tips and strategies to help them navigate and thrive in social situations. Whether you're an introverted student, job seeker, or entrepreneur, this guide will equip you with the skills and confidence you need to succeed in networking.
If you consider yourself an introvert who really struggles with networking as a whole, here are our 5 top tips:
Set achievable goals: Start small by setting achievable goals, such as attending one networking event per month or reaching out to one new contact per week. As you become more comfortable, you can increase your goals. Soon you will be attending networking events like they are nothing!
Prepare ahead: If you know you'll be attending a networking event, do some research beforehand to familiarise yourself with the attendees, the venue, and the topics of discussion. This can help you feel more at ease and make it easier to start conversations. This will help you avoid awkward situations but also give you excellent talking points to show whoever you are talking to that you are interested in what they do.
Use your listening skills: Introverted people tend to be good listeners, so use this to your advantage. Instead of feeling pressured to talk, ask questions and listen to what others have to say. This can help you build connections and make new friends. You will come off as very considerate as well as interested in whoever you are listening to.
Connect online: If face-to-face networking events are too overwhelming, consider connecting with people online. LinkedIn, for example, is a great platform to network with professionals in your field. Most people are on LinkedIn or at least some sort of social media platform that will allow you to contact them and in a post-covid setting most people actually prefer contact through online methods rather than in person.
Take breaks: Don't feel like you have to stay at a networking event for the entire duration. Take breaks and step away from the crowd when you need to recharge. Furthermore, if you feel like you are done with the event, don't force yourself to stay. There will always be more events and if you feel you have done enough or simply don't have the social energy to continue then you won't be doing yourself any favours.
Remember, networking is a skill that can be learned and honed over time. With patience, practise, and a positive mindset, introverts can become confident and successful networkers. So, go out there and start building the connections that will take your career or business to the next level!
Share this blog post
Why not subscribe to this blog and receive blog updates!
Subscribe